Garret, Minelab, Fisher, C skope.
R1
C-SCOPE  R1 PRICE (~860$)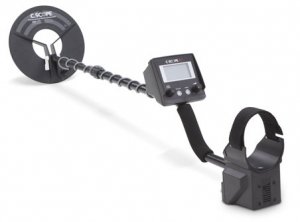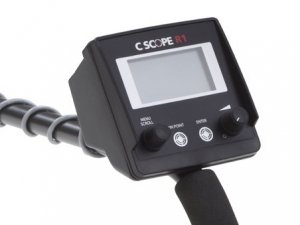 A metal detector is a highly tuned electronic instrument. Just like a Formula 1 racing car, deep inside the electronic 'engine' of the metal detector there are all sorts of adjustments which need to be made to ensure top performance. The main adjustments are extended to controls on the front panel, which are for everyday use by the detectorist. All the other adjustments are preset by skilled technicians in the C.Scope factory. But these presets may not be exactly right for some sites and some styles of detecting. The R1 gives you computerised access to the innermost workings of the metal detector so you can adjust it minutely for 100% performance. And, best of all, if you're the type of user who isn't into all that adjustment, you can just set the R1 computer to 'automatic' and it will make all the decisions for you. How's that for total user-friendliness ?
Field testing the R1 is as long or as short as you want to make it. The short version is:  Set the R1 to 'Auto' and get ready for power detecting at its best.
The longer version depends on the detecting site and your individual style of detecting. Suffice to say, if you are the kind of chap who wants to get absolute maximum performance out of the detector, the R1 will not disappoint. The R1 computer menu system allows easy access to fine adjustment of every part of the machine's electronic circuitry.  Incidentally, the R1 comes with the screen menus pre-loaded in a variety of foreign languages. Is there any other detector manufacturer which has taken the trouble to do that for its customers ?
The R1 is a compact, perfectly balanced detecting format. The attention to detail is excellent, even down to little rubber covers to keep dirt out of the sockets in the battery box. The battery pack is 8 x AA cells in a pod and there are 2 search-heads (25cm and 15cm) supplied with the R1. The little head is great for getting in around undergrowth and small heads are less susceptible to ground effects, so perfect for beach detecting. If you're into 'no compromise, maximum depth', you can easily set up the R1 to do it. If you're working troublesome ground or need to eliminate some particular type of trash, the R1 gives you the flexibility you want.
When you have all the settings dead right, you can save them for future use under 'custom programs'.
There's a feeling of quality when you pick up the R1. The machine is packed full of technology but it's not heavy or cumbersome and it doesn't creak or rattle like some competitors' detectors. 
VERDICT
If you want the top general purpose metal detector on the market today,  it's got to be the R1. No question about it.
HELLO
 www.metaldetecting.n.nu.
My email:
[javascript protected email address]